Dedicate resources to support enterprises to apply, transfer advanced machinery and equipment into production, especially new products, encourage Ha Giang technology has been realizing the goal of modernizing rural industry.
Ha Giang's 2022 local work promotion plan includes 11 schemes and 2 other spending tasks with a total implementation cost of VND 4.178 billion and support cost of VND 1.623 billion. 11 projects in the content of supporting the application of advanced machinery and equipment to production, in fields such as tea processing, production of handicrafts, garments and other consumer goods…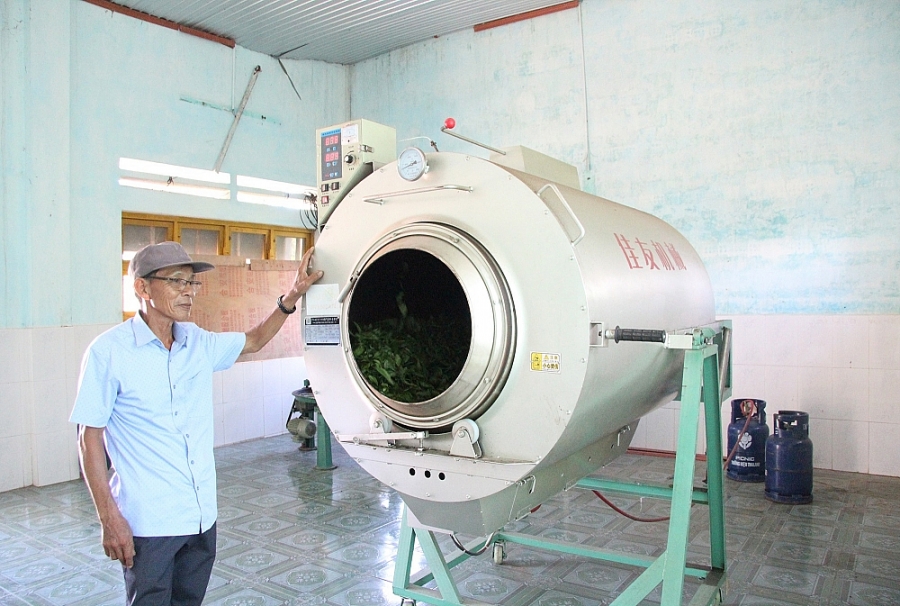 Supporting the application of cutting-edge machinery and equipment, especially with new product manufacturing facilities from which technological innovation, productivity improvement and product quality are the contents implemented by Ha Giang Industry Promotion and Technology Center (Center) with high efficiency over many years.
In 2021, also from the local public incentive capital, the Center supported Tuan Tap Transport Trading Cooperative (Xín May district) with 3 gas teapots. After being invested and put into operation, this equipment has a capacity of 50 tons of green tea/year.
Or Coc Rai Agricultural and Forestry Service and Trading Cooperative (Xín May district) is also supported to apply advanced machinery and equipment, design consulting of packaging labels in honey production and processing. Accordingly, 1 raw filtration trough, 1 400l/hr crystallizer, 1 300 kg crystallizer/batch was invested, which significantly improved the production capacity and product quality of the cooperative.
Ha Giang is a mountainous province, the number, scale as well as production capacity of industrial production establishments in rural areas are limited. The prioritization of technological investment and gradual modernization of industrial and handicraft production is a long-term orientation that has been given by the province in the Ha Giang Industrial Promotion Program for the period 2021-2025.
The program also has very specific objectives for this content. Accordingly, support the development of 3 demonstration models to disseminate new technologies into industrial and handicraft production in the main and typical product processing industries; OCOP product processing; production of consumer and mechanical industries for agriculture and rural areas; production of construction materials; agro-forestry – aquatic products processing and clean food; support the application of advanced machinery and equipment for 70 rural industrial establishments.
In addition to supporting the development of production and technology, Ha Giang also implements activities to promote and introduce products, expand the market for product consumption for rural industrial establishments; advise on industrial development and investment orientation, and select production technology in incentive schemes.
Acting as a permanent unit, presiding over the implementation of the program, the Department of Industry and Trade, the provincial Center for Industry and Trade Promotion shall endeavour to coordinate with relevant units in implementing and examining the promotion activities in the locality; advise on amending and supplementing and completing the system of legal documents on promotion of local affairs accordingly; formulate budget estimates for the implementation and lead the development of projects to ensure maximum efficiency for the projects.
Source: Cong Thuong
Must Read