Industry News
US investigates Samsung and LG washing machines manufactured in Vietnam
Washing machines manufactured in Vietnam by Samsung and LG and exported to the US are being investigated due to signs of dumping.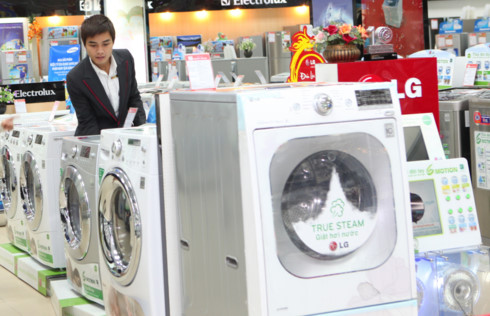 The US International Trade Commission (ITC) has formally initiated a global safeguard investigation on imported washing machines and related components manufactured in Vietnam by Samsung and LG.
A representative of Samsung in Vietnam said that at the end of June 2017, the Vietnam Competition Authority (VCA) of the Ministry of Industry and Trade had informed them about this investigation. At present, Samsung is dealing with related parties to solve the problem.
In particular, on May 31, 2017, Whirlpool Corporation filed a petition with the ITC against Samsung and LG. The safeguard petition is meant to provide help to domestic manufacturers hurt by importers selling products at excessively low prices.
Whirlpool said that during 2012-2016, the volume of imported washing machines in the US has doubled from 1.6 million to 3.21 million units, which heavily damaged the US washing machine manufacturing industry, beating down revenue and profit and increasing unemployment.
Moreover, Whirlpool accused numerous washing machine manufacturers, including Samsung and LG, of moving their factories from China to Vietnam or Thailand to evade the dumping tariff imposed on washing machines produced in China.
The US is imposing a 1 per cent of tax on washing machines, and 2.6 per cent on related components if they are produced in Vietnam, but washing machines and related components from China and the Republic of Korea have to suffer significantly higher charges of 52.5 and 32.1 per cent, respectively, after Whirlpool's proposal to impose anti-dumping tax on these two countries was approved by the ITC in 2016.
Thus, if such high tax was imposed on washing machines manufactured in Vietnam, Samsung and LG's exports from Vietnam would be heavily influenced.
The representative of Samsung said that consumers chose Samsung products due to their design and innovations. Thus, consumers will be the ones who suffer most if Whirlpool's proposal to the ITC is approved.
Samsung's representative said that Whirlpool has restricted customers' choices, raised selling prices, while its products had no significant innovation or improvement.
According to speculations, Whirlpool sued Samsung and LG Vietnam because it has been losing market share in the US in the last one year.
According to the newswire Vnexpress, by the end of the first quarter of 2017, Whirlpool's market share in the US decreased by 2.4 per cent, from 19.2 to 17.3 per cent.
Thus, Whirlpool lost its number one position in the US washing machine market to Samsung, which increased its market share from 16.2 to 19.7 per cent, an equivalent of 3.5% growth in the first quarter of 2017.
Similarly, LG have also been quickly raising its market share in the US and it was positioned at the third rank regarding market share, with 16.8 per cent.
In an announcement, LG said that this lawsuit demonstrated Whirlpool's lack of ability to compete with other global brands.
In Vietnam, since 2014, Samsung has invested more than US$2 billion into expanding its appliance manufacturing complex in Ho Chi Minh City, which was put into operation in February 2016.
LG Electronics complex, which produces TVs, cell phones, washing machines, vacuum cleaners, and digital devices for domestic consumption and export, was constructed in the northern port city of Haiphong with the total investment of $1.5 billion and was put into operation at the end of March 2014.
According to VCA, it is expected that the ITC will announce its final conclusions to this lawsuit on October 5, 2017, and it will report to US President Donald Trump to have a final call on whether the US will impose anti-dumping tax on foreign washing machine manufacturers, such as Samsung or LG.
The final decision is expected to be made and released on December 4, 2017.
Source : Vietnamnet Online News
Sep 2017